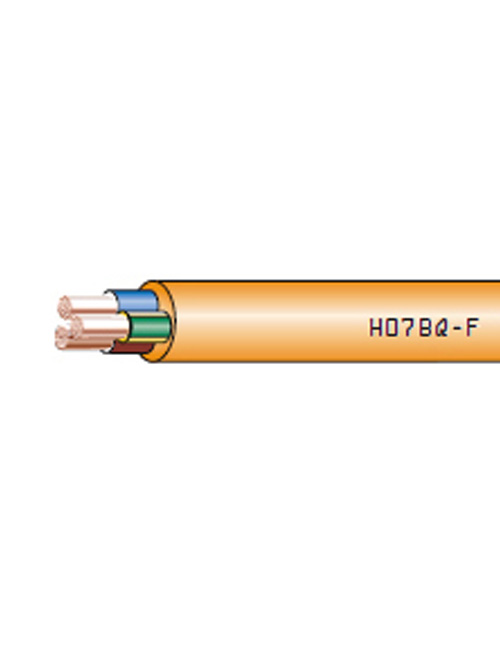 H07BQ-F
Standard Reference
| | |
| --- | --- |
| EN 50525-2-21 – CEI 20-107/2-21 | Construction & Specifications |
| 2014/35/UE | Low Voltage Directive |
| 2011/65/CE | RoHS Directive |
Product Info
Product Description
Description
EPR rubber insulated flexible power multi-core cable with polyurethane sheath.
Conductor
Plain copper flexible wire, class 5
Insulation
EPR rubber compound, EI6 quality
Outer Sheath
Thermoplastic polyurethane compound TMPU
Cores Colour
HD 308 Standard
Sheath Colour
Usually orange
Technical Characteristics
Nominal voltage Uo/U: 450/750 V
Maximum operating temperature: 90°C
Minimum operating temperature: -40°C
(without mechanical stress)
Maximum short-circuit temperature: 250°C
Maximum tensile stress:
15 N/mm2 (mobile laying)
50 N/mm2 (fixed laying)
Minimum bending radius:
6 x maximum external diameter (mobile laying)
4 x maximum external diameter (fixed laying)
Use and Installation
Suitable to be used indoor or outdoor, even in wet environments. Particularly suitable for applications which require high abrasion resistance, medium mechanical and tear stresses like the connection of power tools, engines and transportable machines on construction sites, agricultural applications.
Suitable for use in cold storage applications. Suitable for heating devices only when contact with hot surfaces or exposition to heat radiation is avoided.
Avoid contact with skin when operating at high temperature. Not suitable for underground laying. (ref. CEI 20-40, HD 516)